The advantages of TerraSeal are substantial and its uses are diverse. In addition, it has a positive impact on the environment as, coupled with its non-toxicity, multiple materials needed for construction need no longer be hauled to the project site as the natural resources available at site can be utilized.
ADVANTAGES
Easy to apply using standard road equipment
No need to import base material
Works with virtually all types and combinations of material
Large application area – approx. 4,000 sqm/200 litres
Entirely non-polluting, non-hazardous, non-corrosive, non-allergenic and non-flammable
Ships in the cheapest, non-regulated category
Treated surfaces can be used immediately – least interruption to traffic
Treated surfaces typically increases CBR by 250 –300%.
Reduction in annual maintenance costs
Productivity increases with faster travelling time
Better soil gradation
Reduction of plasticity index or swelling potential
Increases road durability and strength
Safe carrier for hydro-seeding
Preserves the natural look of the application site
Treated roads constructed are highly impermeable and compacted
In most situations, no additional surface is required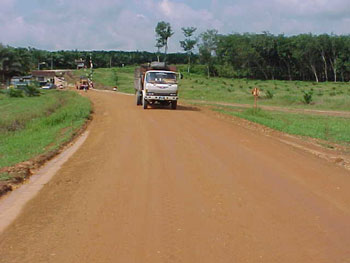 USES
Soil stabilize & strengthener
Dust suppressant
Erosion control
Road stabilization
Road/Driveway dust control
Silt loading control
Slope stabilization
Stock pile cappings